"Raise your words, not your voice. It is rain that grows flowers, not thunder."
-Rumi
Parent Advisory Committee
The Parent Advisory Committee acts as a liaison between families and school administration to address issues in a manner that respects the privacy of all involved while also working to create additional resources for volunteers, fundraising, event ideas and insight. The main focus is to encourage and foster connected relationships among parents, students, teachers, administrators, and community. All action is taken for the good of the whole, as the PAC is an essential vehicle to express the truth and how it aligns to accomplishing our ultimate goals.  
Our job is to simply advocate for the thoughts and feelings of the collective parents that are represented by the group; as well to advocate for our teachers and community simultaneously.  We use the relationship with the administrative team and other resources to better understand and then to communicate the bigger picture and justification for parent concerns. We understand that the effectiveness of the Committee is not the responsibility of any school official, but lies within our collective duties, power, and voice as one group to move towards the best educational experience for all children.
The Fall and Winter of 2023 we plan to explore a fundraising effort that will showcase school spirit through the sale of our Fannie Battle Family T-Shirt. All proceeds from this fundraiser will be allocated toward a specific funding effort dedicated to supporting our families and teachers throughout the school year not limited to general funding.
Click on the button below to support the Fannie Battle Family T-Shirt fundraiser! T-Shirt ordering ends November 16th, 2023 at 11:59PM, there will be a 2 – 3 week window for all shirt orders to arrive and packaged. Once ordered you will be notified via email with information on how to retain your shirt order!
Thank you for your support and consideration of the Fannie Battle Day Home for Children here in East Nashville.
-Parent Advisory Committee 2023.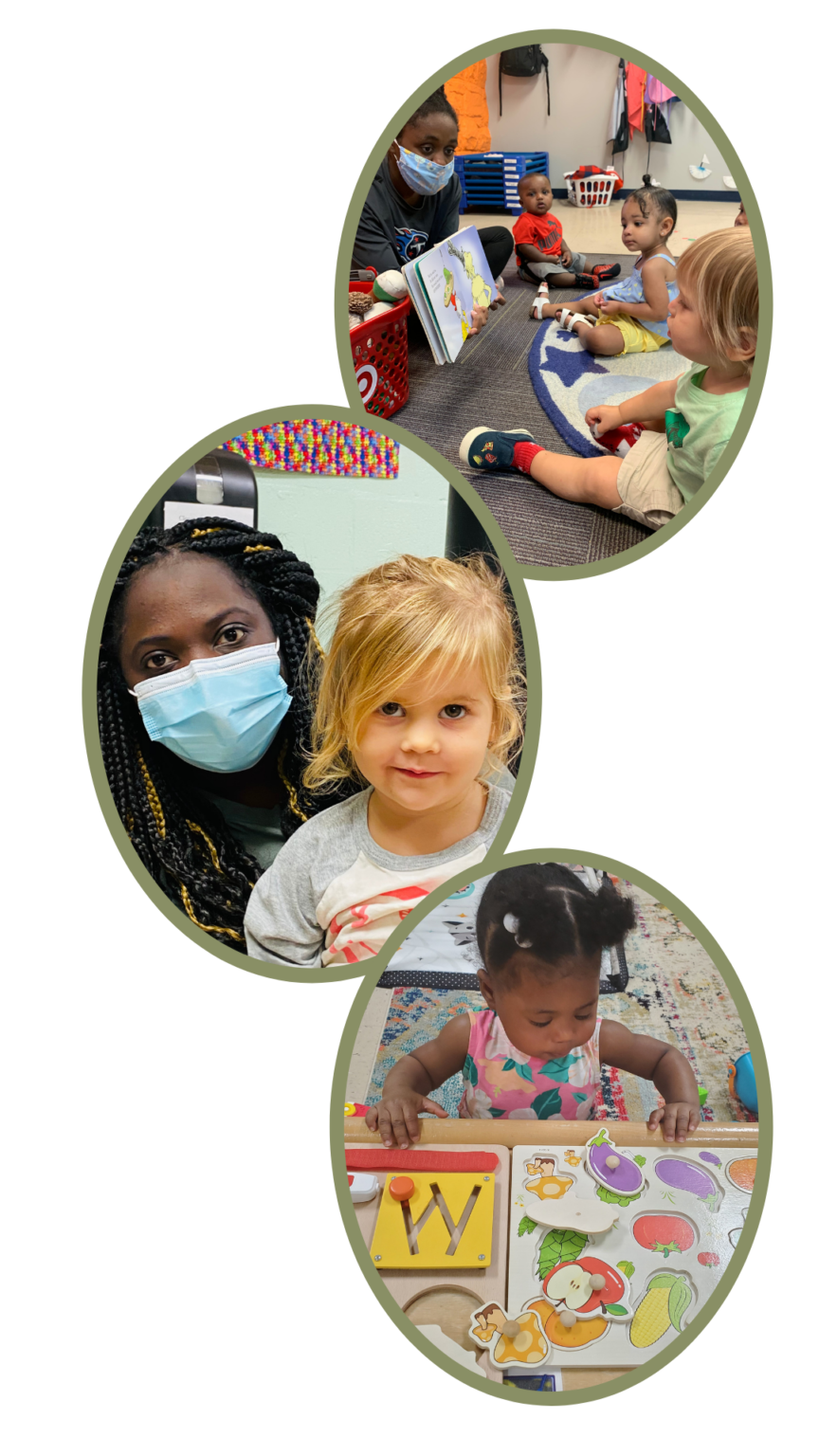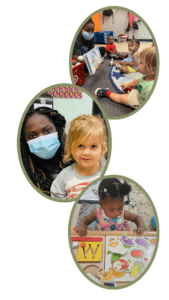 Your financial support is crucial in ensuring tuition rates remain affordable for all working families. While all families pay tuition, the fees, and subsidies received only account for just under 50% of our income. Our mission is to provide affordable and accessible high-quality childcare while empowering families to reach their fullest potential.
Families have had to choose between leaving their job to stay at home or find care to look after their child(ren). Securing space at a center, that offers availability and affordability for working families, has been a major crisis, globally, for decades. As the pandemic continues, the problem grows significantly. Unfortunately, women have bared the brunt of this responsibility and are among the highest percentage of unemployment claims and withdrawal from the workforce. Over 60% of Fannie Battle families are single mothers, and have been since our inception, which is why your contribution is vital to the success of our children, families, and qualified and caring staff.
If there was a time that we could understand what it was like when Miss Fannie Battle started our organization it is now. Because of the support received from our community that we are proud to, safely, live our mission during this much-needed time for affordable and accessible care in our nation.
Help support Fannie Battle's programs by donating supplies for the classroom and office by shopping through our Amazon Wish List* or in-person to our center.
* By shopping through AmazonSmile, 0.5% of purchases will be donated to Fannie Battle Day Home. Simply shop Amazon using smile.amazon.com and select "Fannie Battle Day Home for Children" as your designated charity.  
We accept new or gently-used items such as children's clothing, home goods, and children's toys, however please call our office at (615) 228-6745 prior to drop off so we can discuss the items you wish to give as we have very limited space and want to make sure your donation gets loved appropriately.
Donations made in-person can be done Monday through Friday from 6:30a – 5:30p.
We need:
Unscented laundry detergent pods
Kleenex & paper towels
Diapers and wipes
School supplies (scissors, glue, markers, crayons)
Classroom art supplies (paint and brushes, colored pencils, construction paper)
Books (new and gently used)
New or like-new clothing (children ages infant to 12 years-old)
Hats, scarves, gloves, coats
Gift cards: Kroger, Dollar General, Target, Uber, Target, etc.)
We cannot accept:
Heavily-used clothing or other household items
Expired food
Opened infant formula or snacks
Car seats
Opened diapers or wipes
Please check with us first regarding:
Furniture
Appliances
Other large donations
Children's toys
Electronics, including computers
If you are able to make any of these donations or have any questions regarding our needs and your gift, please contact Gooch at rgooch@fanniebattle.org or call (615) 228.6745.
Give Back by Shopping
♦Kroger Rewards♦ Kroger Community Rewards makes fundraising easy – all you have to do is designate Fannie Battle as your preferred charity and each time you shop at Kroger, swipe your Plus Card and Kroger will donate a portion of purchases made to Fannie Battle!

♦AmazonSmile♦ By shopping through smile.amazon.com and selecting "Fannie Battle Day Home for Children" as your designated charity, 0.5% of purchases will be donated to Fannie Battle Day Home. 
More Ways to Make an Impact

Create Your Own Fundraiser
Launching an online fundraising campaign is a way for you to choose how you want to make a difference. Using JustGiving, you can choose to support Fannie Battle Day Home through creative campaigns, such as:
Celebrating an occasion. Ask friends for donations rather than birthday or wedding gifts
Remembering someone. Pay tribute to a loved one by collecting donations for a cause they cared about
Fitness challenge. Set yourself a physical challenge – either on your own or as a team
Virtual gathering. Use live-streaming video calls to host an online trivia or other social events
Gaming. Take part in a sponsored gaming marathon or competition
Do your own thing. Shave your head, give up chocolate, do something unique
Corporate Giving
Double or triple your giving through your employer's matching gift program.
Donations can be made directly to Fannie Battle Day Home or through your workplace giving program, such as Benevity or YourCause. Your company may also match the hours you volunteer with us with a financial grant. Contact your HR department to see if your company will match your gift of money or time. 
Planned Gifts
Support accessible and affordable care with a gift that costs nothing now.
Leaving a gift to Fannie Battle Day Home in your will or by beneficiary designation is a great way to invest in the future of quality childcare in our community and make a lasting difference for generations to come. Simply name Fannie Battle Day Home as beneficiary to any of these types of accounts:
Retirement Accounts
Life Insurance Policies
Bank or Brokerage Accounts
Certificate of Deposit
Donor-Advised Funds
How to name Fannie Battle Day Home as a beneficiary:
Step 1: Obtain the appropriate forms on the account website or by calling the customer service number on your statement to request that a form be sent to you.
Step 2: Write in Fannie Battle Day Home for Children as a beneficiary and use our Tax Identification Number (TIN): 62-0476290 where the form asks for a social security number.
Step 3: Send the form to your administrator and let us know about your gifts so we can say thank you and ensure your wishes are fulfilled.
To notify us of a Legacy Gift you have planned, or to discuss the best option for you, please contact Kristie Ryan at (615) 228.6745 x103 or kryan@fanniebattle.org
Stock Donations
Increase your gift to Fannie Battle Day Home through a stock donation
Fannie Battle Day Home gratefully accepts gifts in the form of stocks/appreciated securities. Please consult with your financial planner to determine the best option and contact Kristie Ryan at (615) 228.6745 x103 or kryan@fanniebattle.org for more information.