"The future depends on what we do in the present."
- Mahatma Gandhi
Your financial support is crucial in ensuring tuition rates remain affordable for all working families. While all families pay tuition, the fees and subsidies received only account for just under 50% of our income. Our mission is to provide affordable and accessible high-quality childcare while empowering families to reach their fullest potential.
Between the tornadoes that hit Nashville, and the outbreak of COVID-19, these past few months have turned into quite the challenge for everyone. On March 18th, we closed the center to ensure the health and safety of our staff, children, and families and successfully re-opened on Monday, June 1st, following the move to Phase Two in Davidson County. During that time, we continued to pay staff and ensured tuition for families was waived. Unfortunately, we had to make the necessary decision to cancel our largest fundraiser, Yum!East, which would have occurred in May. As more businesses reopen, putting parents back to work, and schools plan to remain closed, the overwhelming need for reliable and affordable childcare has grown exponentially. Your gift allows us to continue to provide high-quality childcare,  so caregivers can continue to provide for their families.  Thank you for your support during this challenging time for our organization and our community.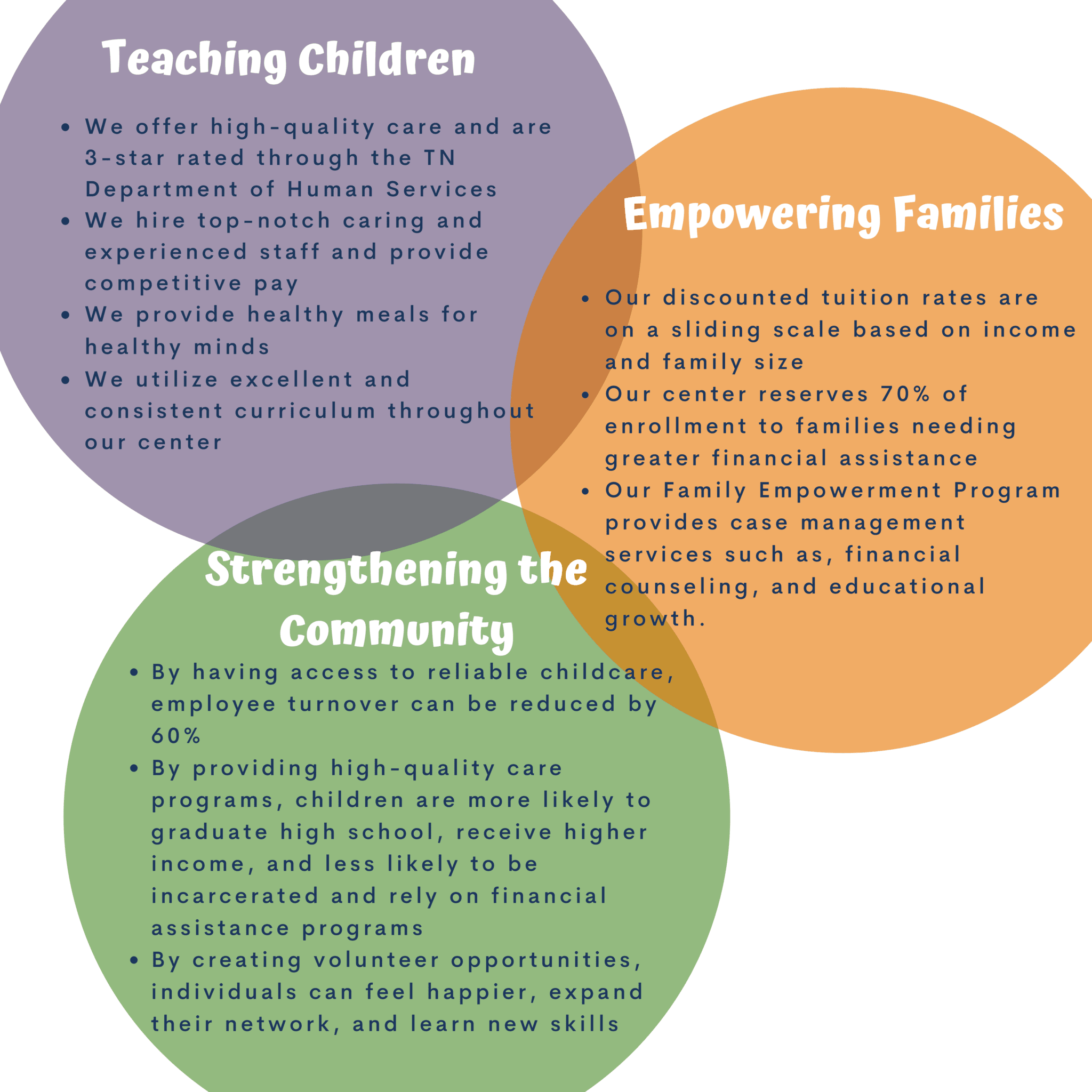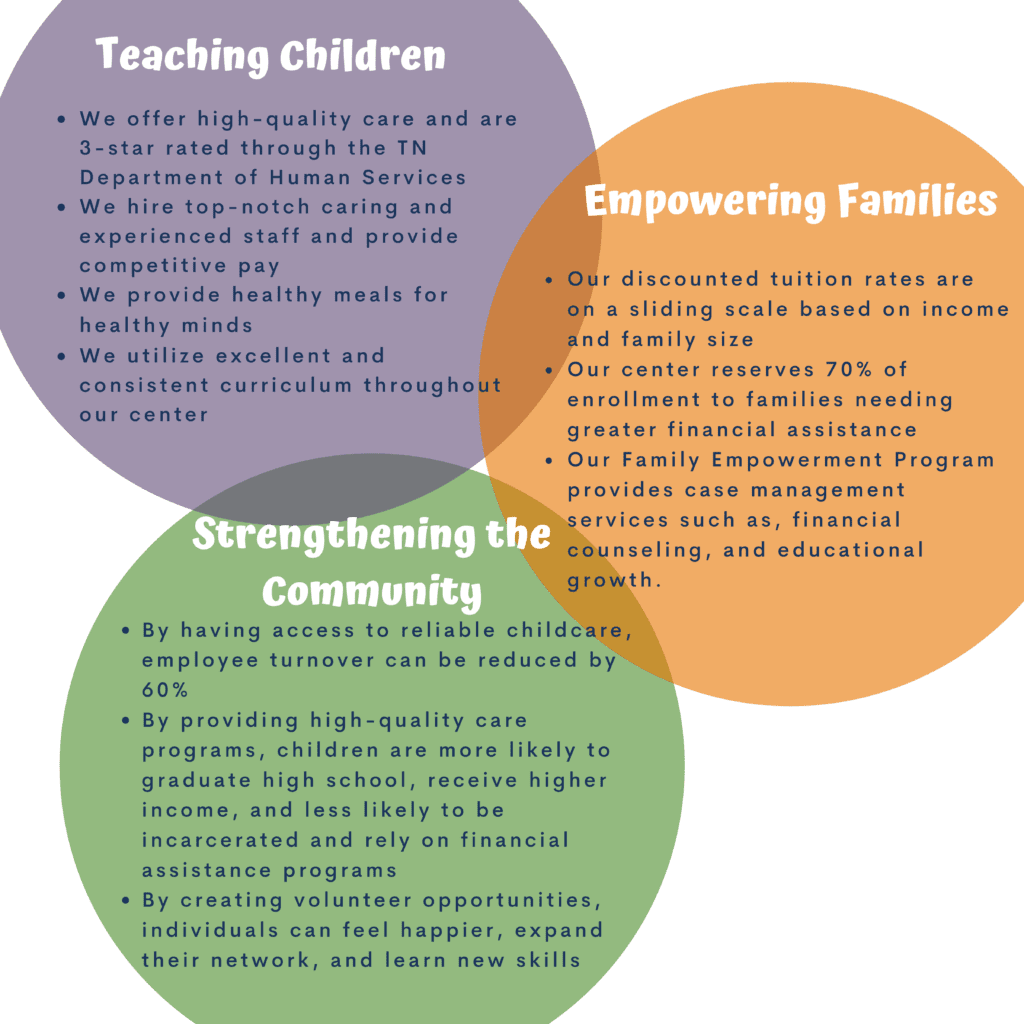 Help support Fannie Battle's programs by donating supplies for the classroom and office by shopping through our Amazon wish list* or in-person to our center.
* By shopping through AmazonSmile, 0.5% of purchases will be donated to Fannie Battle Day Home. Simply shop Amazon using smile.amazon.com and select "Fannie Battle Day Home for Children" as your designated charity.  
Update: Fannie Battle Day Home is temporarily not accepting in-person donations as we navigate through this pandemic. Should you wish to make an in-kind donation, we would love for donations to be made through our Amazon Wish List. If you have any questions please contact Melissa McWilliams at mmcwilliams@fanniebattle.org. Thank you.
We accept new or gently-used items such as children's clothing, home goods, and children's toys, however please call our office at (615) 228-6745 prior to drop off so we can discuss the items you wish to give as we have very limited space and want to make sure your donation gets loved appropriately.
Donations made in-person can be done Monday through Friday from 6:30a – 5:30p.
Center & Classrooms
Laundry Detergent Pods
Kleenex & Paper Towels
Diapers & Wipes
Bibs & Sippy Cups
Wash Cloths
School Supplies (Crayons, Glue, Markers)
Books (new and gently used)
Writing Paper & Pencils
Toy Cars, Dolls & Stuffed Animals (new)
Art Supplies (Paint/Brushes, Colored Pencils, Construction Paper)
Board Games (Trouble, UNO, Connect Four)

Family Support
Tuition Assistance
School Uniforms, Coats, Shoes & Clothes
Thanksgiving Baskets & Christmas Gift Assistance
Additional Needed Supplies
Teacher Incentives (movie pass, bath goodies, candles)
Gift Cards (Target/Wal-Mart/Kroger/Teacher Parent Store)
Copy Paper, Colored Copy Paper & Photo Paper
Pens, Highlighters, Dry Erase Markers & Sharpie Markers
Batteries
More Ways to Make an Impact

Matching Gifts & Designations
Double or triple your giving through your employer's matching gift program. Donations can be made directly to Fannie Battle Day Home or through your workplace giving program. Your company may also match the hours you volunteer with us with a financial grant. Contact your HR department to see if your company will match your gift of money or time. 
Give Back by Shopping
♦Kroger Rewards♦ Kroger Community Rewards makes fundraising easy – all you have to do is designate Fannie Battle as your preferred charity and each time you shop at Kroger, swipe your Plus Card and Kroger will donate a portion of purchases made to Fannie Battle!

♦AmazonSmile♦ By shopping through smile.amazon.com and selecting "Fannie Battle Day Home for Children" as your designated charity, 0.5% of purchases will be donated to Fannie Battle Day Home. 
Other Fun Ideas
Donate your birthday

Host a dinner party

Have a bake sale or chili cook-off

Create your own fun way to make an impact